Enjoy our 2017 - 2018 season - Our 32nd!
Our 32nd Season celebrates the richness and pleasures of chamber music for the quartet ensemble — Six Quartets, with variety. 3 string quartets — one joined by a star tenor, 2 piano quartet ensembles
and 1 recorder quartet — the world's best… live for you at the Trianon!
The

AURYN QUARTET

returns — string quartets by MOZART, GRIEG and DEBUSSY.




HORSZOWSKI TRIO

— with violist Masumi Per Rostad for SCHUMANN and FAURÉ #2 piano quartet —a nd world premiere of Andreia PINTO-CORREIA's composition: The Night Migrations (for Piano Trio).
Tenor

NICHOLAS PHAN

and

JASPER STRING QUARTET

—
SCHUBERT and BRITTEN works for quartet alone and a set of songs by each composer arranged for tenor and string quartet.


FLANDERS RECORDER QUARTET

— baroque and contemporary works from their extensive repertoire for their

'farewell tour' concert before retiring after 30 years!




THE BRIDGE PLAYERS

piano quartet — BRAHMS #2 and FAURÉ #1 piano quartets and a short work by Jay SYDEMAN.


ENSO STRING QUARTET

— BEETHOVEN Op. 132 — with MENDELSSOHN Op. 13, and Paul MORAVEC Dialogue — both composers and compositions were inspired by Beethoven.


Our 32nd Year of Live Chamber Music!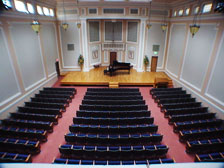 Join us for the best of chamber music presented in the finest chamber music venue, Trianon Theatre at:
72 N. 5th Street
San Jose, CA 95112
Convenient and free weekend parking is available across the street from the venue in the City garage.